October 25th, 2010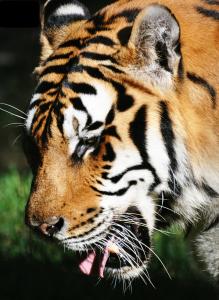 If you love tigers and lions then I highly recommend a visit to the Big Cat Sanctuary in Tampa, Florida. The guided tour - this is not a zoo where you can show up when you want - was a unique experience.
By the time we left the sanctuary my trigger finger was beginning to hurt. I was in love with all the exotic cats, but especially the Bengal tigers and white tigers. Beautiful and endangered, tiger shots are the crown jewel in the portfolio of any photographer.
I was beyond thrilled to score several fine shots of these beautiful, exotic cats. You will find the best three shots for sale in my wildlife gallery.

Tip: My greeting cards are sized 5x7 and printed on heavy cardstock they will look beautiful in a frame. (Get a pack of ten:)

If you plan a trip to the Tampa Bay area - come visit Tampa's best kept secret the Big Cat Sanctuary. Check out their website it's packed with cool photos, fun videos about their cats and great fun and games like the cat monopoly for your kids - www.bigcatrescue.org - I bet you'll love it:)
Rose.